The Clore Shared Existence Center has been hosting programs for Arab children affected by the Christian school strike here in Israel.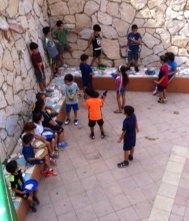 Nearly 40 children have been coming to the Clore Shared Existence Center every day until 1 pm. Small groups of parents have been coordinating a variety of activities for the kids while other parents work.
We at Leo Baeck sincerely hope that the situation is resolved quickly with the Ministry of Education, to ensure that all children in Israel have equal and consistent access to education.