As part of their 20th century history studies, Leo Baeck high school students learn about Germany Jewry before, during and after the Holocaust, the totalitarian government, and its results during the Cold War. In this unique program, this year students prepared research papers, Wikipedia articles, and as a culmination and completion of this learning process, 26 students participated in an alternative visit to Berlin during the Purim holiday in March.
Accompanied by Leo Baeck High School principal Dafna Yakubovich and history teacher and pedagogical coordinator Dr. Dafna Haran, the students' in-depth introductiton to and awareness of the German Jewish community included visits to: a Jewish school where they learned about the first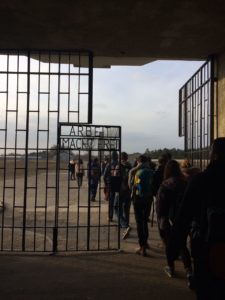 Reform rabbi, Regina Jonas, who perished in Theresienstadt concentration camp; the story of Rabbi Leo Baeck and the Ahava Village for Children and Youth that began in Berlin over 80 years ago and is now located in Kiryat Bialik; the New Synagogue on Orianenburger Srasse where they were hosted for Kabbalat Shabbat and the reading of the Megillah; the Topography of Terror Museum; the Wannsee Villa where a brief seminar was held, the Stasi Prison of the secret police of East Germany; the City Hall of the Schoenburg Quarter; Bebelplatz, the square that was the site of one of the Nazi book burning ceremonies; the Reichstag, home of the German Parliament; Sachsenhausen concentration camp where they learned of the fate of gypsies and homosexuals and witnessed the terror of the totalitarian Nazi government at various monuments. The students also visited sites of the Righteous Among the Nations, non-Jews who saved Jews from extermination during World War II, and learned about modern life in Berlin through its fascinating museums, and about the life of the Jewish community and the plight of the refugees in Berlin today alongside the victims of the Nazi regime, among them the Kindertransport children.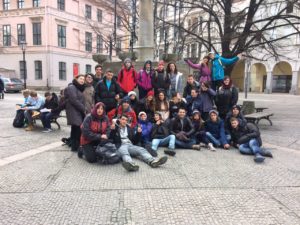 This amazing study tour made a tremendous impression on the students and deepened their understanding of totalitarian regimes by enriching their knowledge through actual interaction with the subject of their academic research.