On January 17,  2016,  for the third time since 2012 the Big Band of the Edith Stein-Schule Darmstadt (Germany) visited the Leo Baeck Education Center and delighted us with their wonderful music.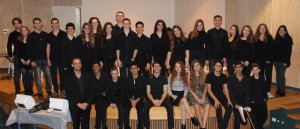 The auditorium was packed and filled with a great atmosphere.The Leo Baeck Orchestra welcomed the German band and opened the joint concert with "Dance of the Machines", followed by a Capella version of Arik Einstein's song "When You Cry You are Not Beautiful"  and closed their performance with a popular hit tune: "Berlin Berlin".  
Afterwards the Big Band took over with amazing performances like the theme of the movie "Rocky", "Fly Me to the Moon" and "Skyfall". The audience was excited and accompanied the band with big applause.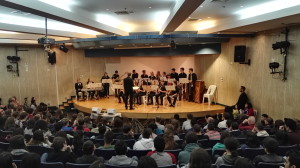 The Orchestra – Big Band Project, ongoing since 2012, consists of joint performances and activities in several venues in Germany and in Israel. Music is the young musicans' language to communicate, to learn from and about each other and to generally strengthen the special Israeli German relationship.
The  important project is carried out through the efforts of Penny Arenson, the Leo Baeck international programming coordinator and orchestra manager, the Israeli conductor Dudi Soffer, and the German conductor Oliver Nickel.