On Monday, June 8, 2015, the Leo Baeck Education Center celebrated a very special group Bar/Bat Mitzvah for eleven teenage boys and girls from disadvantaged families in Western Haifa (Ethiopians, Former Soviet Union and veteran immigrants), including one special needs student.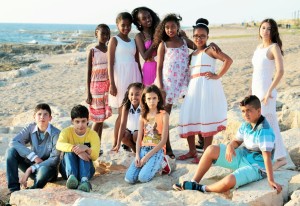 Recognizing that many teenagers who live in Western Haifa are unable to celebrate a Bar/Bat Mitzvah like their classmates due to family financial constraints, Leo Baeck University Leadership Training Program participant Aviva Tadesa initiated this project to help disadvantaged youngsters formulate a positive identity and sense of empowerment. The teens and their families celebrated an especially festive Bar/Bat Mitzvah at Haifa's Mercaz HaCongressim (The Congress Center). Nearly 350 persons attended this special event – the youth, their families and special guests who came to honor the culmination of a year-long group journey of personal and social identity formation and team-building.
To strengthen the significance of the Bar/Bat Mitzvah year (beginning their obligation to observe Jewish commandments), the youth conducted and participated in four community service and involvement events: a Tu B'Shevat Seder for Holocaust survivors, preparation of Passover food baskets for needy families, painting Leo Baeck's Ruth Center, and conducting activities for young children in their neighborhood. This project places great emphasis on the cycle of acceptance and contribution among a weakened population accustomed to receiving rather than giving.  The community service projects strengthened their understanding of the importance of giving, and helped them to develop a sense of belonging and commitment by contributing to their community.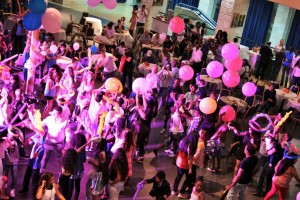 Mr. Dani Fesler, Managing Director of the Leo Baeck Education Center, greeted the participants and urged the Bar/Bat Mitzvah youth to continue to dream and to develop into future young leaders. Guests of the big event included representatives of the Haifa Municipality, including: Sophie Nakash, a member of the City Council's Culture and Community Portfolio; Uri Blum, Head of the Cultural Division; Rani Markovits-Sagan, Head of the Haifa and Valley District Community Center Corporation and members of The Haifa Municipality's Department for Advancement of Youth. Also in attendance were members of the Western Haifa Department of Social Services; lay directors of the Leo Baeck Community Center and its staff (headed by Yoav Yagol); and last but certainly not least, the youth's teachers and other staff at their respective schools.
Use of the Mercaz HaCongressim facilities were donated by the Haifa Municipality. The Leo Baeck Community Center is grateful to all our partners, donors, and volunteers who contributed to the success of this special community project.