On May 12, 2015, approximately 250 high school students from Leo Baeck and the Sisters of Nazareth School in Haifa came together at the Leo Baeck Education Center for Haifa's Arab-Jewish Youth Parliament.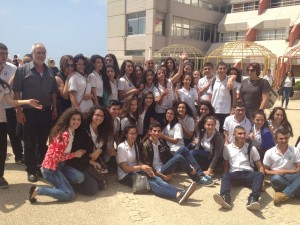 The Arab-Jewish Youth Parliament was the climax of an ongoing national project that creates a framework for dialogue and meetings between Jewish and Arab students. The program promotes mutual respect and tolerance by providing an opportunity for Arab and Jewish youth to meet each other on a regular basis throughout the school year. Meetings and workshops address topics such as leadership, diversity, identity, and culture in a mixed city.
The project trains and empowers Arab and Jewish high school students living in four of the country's mixed Arab-Jewish cities to work together to improve their own lives and the lives of their entire communities. The program takes place in Haifa, Tel-Aviv/Yafo, Acre, Ramle and Lod. This initiative is sponsored by the Citizens' Accord Forum between Jews and Arabs in Israel and is funded in part by USAID.
The Youth Parliament's goal is to promote equality, constructive engagement of Jews and Arabs, and to enlarge the circle of people exposed to the idea of cooperation and communication between Arabs and Jews. In addition to monthly local meetings, national seminars and meetings are held during the year in which all student groups, teachers, project staff and facilitators participate.
"Languages" was the theme of Haifa's May 12th conference. Students were divided into groups consisting of an equal number of Jewish and Arab students that participated in several workshops. The sessions were led by both a Jewish and Arab facilitator and Youth Parliament student representatives and included topics such as multiculturalism, identity, sign language, body language, dance and theater. The event concluded with a lively song and dance in sign language, which included all of the participants. Lelie Sharon, a Leo Baeck Youth Parliament member, commented that "the program is exciting and creates awareness and tolerance for other cultures."
Leo Baeck's General Manager, Dani Fessler, stated that "The Leo Baeck Education Center is proud to be in the forefront of Israeli schools that promote better understanding and strive to break down barriers between Arab and Jewish youngsters."
Next month some of Leo Baeck's Arab-JewishYouth Parliament participants will travel to the U.S. to participate in the Friends Forever project.