Laughter and excitement filled the Center on Sunday, August 7, 2016, the first day of the weeklong Arab-Jewish Summer Camp, operated annually since 1991 by the Leo Baeck Community Center.
Forty-five Arab and 45 Jewish elementary school children are participating in the filled to capacity camp whose theme this year is the "Six Senses."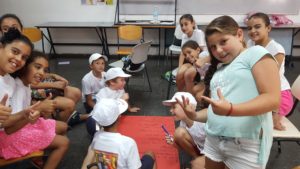 Joining the professional staff of four counselors throughout the week are 20 volunteers from Jewish and Arab Shomer Hatzair youth groups from Haifa and other areas of Israel.  The camp's mission is to enable children to get to know different cultures and religions and to learn to work together through fun experiences in a safe environment.
Day 1 opened with activities focused on the sense of "vision": introductions and "seeing the other" through games, arts and crafts workshops, creation of bilingual drama presentations, a magic show of optical illusions, and a drama workshop with Nalaga'at (Please Touch) representatives, the innovative Israeli non-profit center of culture and arts, where the general public and deaf, blind, deaf-blind meet through theater productions and other events in which these individuals can express themselves and their creativity.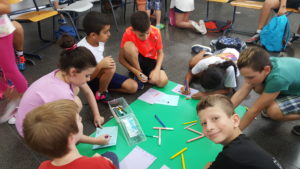 Each of the following five days of camp will be devoted to another sense — hearing, touch, taste and smell — with the week culminating in a sensational extravaganza presentation for parents.