On Wednesday, February 3, 2016, members of the Clore Shared Existence Center's Arab-Jewish Community Garden visited Kibbutz Harduf and Kibbutz Sde Eliyahu in the Galilee.
The Clore Center Community Garden is the only joint Arab-Jewish community garden in Israel and is a main stop along Leo Baeck's innovative Ein Hayam Trail. As part of a series of educational programs for the gardeners and the Clore Center 's lay community leadership team, fifteen members of the Community Garden traveled to Kibbutz Harduf and Kibbutz Sde Eliyahu in the Galilee to learn more about organic gardening.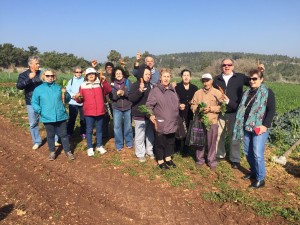 The tour was sponsored by the Leo Baeck Community Center and The Clore Shared Existence Center. The program was coordinated by community gardener Hana Adler and Guy Malal, Project Manager of the Ein Hayam Trail, who has been instrumental in the expansion and development of the Community Garden this past year.
The tour began with a visit to Kibbutz Harduf , an anthroposophical community in the Lower Galilee that is widely known throughout Israel for its organic products. Our Arab and Jewish gardeners observed first-hand Harduf's method of growing crops without pesticides, and then visited the kibbutz dairy farm where they learned about cattle breeding without antibiotics or chemicals. As part of their biodynamic farming beliefs and methodology, the Harduf farmers also recycle the cow manure and use it as fertilizer.
During their visit to Kibbutz Sde Eliyahu, one of Israel's largest organic farms, the Arab and Jewish community gardeners learned about biological control of commercial organic farms. That kibbutz uses animals such as donkeys to eat weeds that threaten its date palms, owls to eat rodents that cause damage to crops, and bumblebees for effective pollination.
Yaacov Habib, one of our most experienced community gardeners, was delighted with the tour — he said that it was "professional, fascinating, educational, useful… and fun!"