As part of their community service commitment, 27 Leo Baeck high school students, under the direction of English teacher and professional translator Ruth Almog and history teacher and librarian Dr. Ruth Ash, volunteered to undertake a translation project..
They translated selected stories from the book "I Came Alone: The Stories of the Kindertransports" from English to Hebrew. The students located and met some of the individuals who participated in the Kindertransports and whose stories are in the book, including Alisa Tennenbaum, Chair of the Israel Kindertransports Association and one of the Kindertransports survivors. Ms. Tennenbaum visited the Leo Baeck Education Center on March 27th and described her childhood experiences before and during World War II to the students and teachers participating in the project.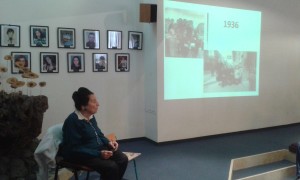 The students were enthralled by Ms. Tennenbaum's emotional and awe-inspiring retelling of her family's suffering during the Nazi occupation of Austria, her amazing escape to England in 1939 alone at the age of 10 as part of the Kindertransports, and the remarkable and heartwarming reunion with her father during World War II, and with her mother six years later in 1945. The family made Aliyah to Israel in 1949 and Ms. Tennenbaum worked as a librarian until retiring and still volunteers for many causes in addition to her role as Chair of the Israel Kindertransports Association. Her positive closing comment inspired and challenged the students: "Volunteering helps me and helps others. You should always try to do good for others."
The goals of Leo Baeck's translation project are many:
Deepening the understanding of childhood experiences of Holocaust survivors
Facilitating access to personal stories of historical significance to Hebrew speakers
Increasing sensitivity to others through reading about the Kindertransports
Learning about the Holocaust through an active experience and with tangible results that benefit the community
Improving translations skills from English to Hebrew
A database of the translated stories, photos, and students' original works of art related to the Kindertransports, contributed by English teacher Yonathan Bar-On, as well as more details about the project, are accessible on the "I Came Alone" website  developed by some of the students.