On May 25th, all of the Leo Baeck Ganim (preschools and kindergartens) came together for a fun-filled Shavuot holiday celebration at the Leo Baeck Main Campus.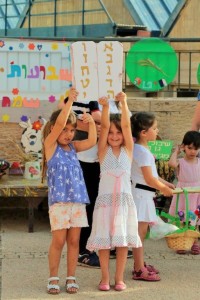 The event included making orange juice, arts & crafts, soap bubbles, sports activities, dancing, healthy snacks and a performance by one of Leo Baeck's dance troupes. The children also participated in a bikurim ceremony (bringing of the first fruits of the harvest).
The parents were full partners in the planning and coordination of the event, which was enjoyed by all.  Chag Sameach!
In addition to the significance of the Shavuot holiday as the day in which the Ten Commandments were revealed to the Israelites at Mount Sinai, Shavuot also commemorates Israel's harvest season.