On December 20, 2017, the Leo Baeck Community Center and the Haifa Municipality held an event for Jewish and Arab children from the western neighborhoods of Haifa at the Clore Center in the multicultural Ein Hayam neighborhood to celebrate the holiday season.
About 400 Jewish and Arab families participated in activities ranging from arts and crafts of Hanukah and Christmas decorations, darbuka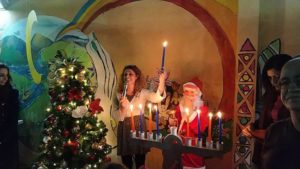 drumming lessons, holiday music and dancing, face painting, and board games.
In a candle lighting ceremony following the activities all the participants watched as children wearing Santa hats lit candles symbolizing equality, fraternity, peace, tolerance, love, reconciliation, respect, listening, and friendship, heard readings in Hebrew and Arabic, and received donuts and surprise party bags containing Father Christmas chocolates and a Hanukah candle. As the culmination of the event the families were treated to a spectacular circus show.
Participants in the festivities were greeted by the Cultural Attaché of the U.S. Embassy in Tel Aviv, Mr. Jonathan Berger. Also attending the event were the Cultural Program Specialist from the Public Diplomacy Section of the U.S. Embassy in Tel Aviv, Mr. Omer Benziony, the new Managing Director of the Leo Baeck Education Center, Rabbi Ofek Meir, and the newly appointed Director of the Leo Baeck Community Center, Ms. Samia Diab. This successful celebration of community bonding and friendship was supported by the U.S. Embassy in Tel Aviv.