Day 1 of the Leo Baeck Community Center's week-long Arab-Jewish Summer Camp, now in its 28th year, began on Sunday, August 12th with full enrollment of 45 Jewish and 45 Arab campers aged 6-11.
The goal of the camp, part of Leo Baeck Education Center's shared existence program, is to create a safe environment where Arab and Jewish children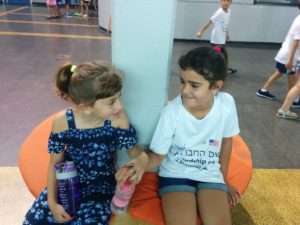 (and their parents) learn about each other's culture and customs, dispel fears, and build trust and friendships, while engaging in educational and fun activities. The theme of the 2018 camp session is "To Be." Day 1 was devoted to introductions, getting to know one another and presenting a self-portrait through various arts and crafts and music activities. Grouped into pairs of a Jewish and Arab camper, each pair began a joint journal in which to note in Hebrew and Arabic their thoughts and impressions of the camp experience each day, and a Hebrew and Arab dictionary of new words learned.
The camp is led by a Jewish and Arab director and all groups are accompanied by both a Jewish and Arab counselor. Each morning begins with a discussion in which children learn Hebrew and Arabic and each day ends with an opportunity for them to express their thoughts and reflections on the day's activities. On the sixth and final day of camp parents are invited to an ending ceremony and performance by the campers, and then will join the children for an afternoon of games and relaxation at the Leo Baeck Community Center pool.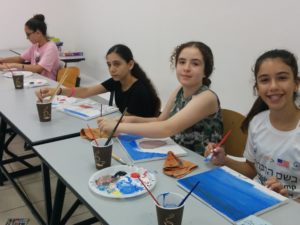 Partial funding for the camp is provided by the United States Government through the kind assistance of the U.S. Embassy in Tel Aviv.