On June 11, 2015, the Leo Baeck Community Center was delighted to welcome former Israeli basketball star and current NBA player Omri Caspi of the Sacramento Kings.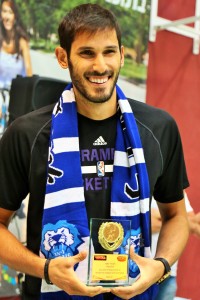 Omri's visit was part of a pilot program initiated by Leo Baeck, the Association of Community Centers and the Telma Food Company. This program brings together Arab and Jewish children and parents for soccer and basketball – the emphasis in on physical activity, spending time with family, health and fun.
Last Thursday's event began with a game of basketball played by children who participate in Leo Baeck Community Center sports activities.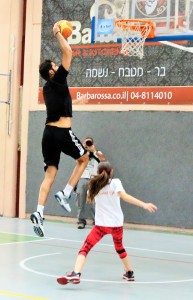 Afterwards, Omri joined them on the court for several rounds with groups of both children and parents.
Dani Fesler, General Manager of the Leo Baeck Education Center and Yoav Yagol, General Manager of the Leo Baeck Community Center both welcomed Omri, who stated that "some of the parents and kids here have some pretty good skills." He then gave autographs, posed for some pictures, and medals were distributed to all participants.
The event was an extraordinary experience for many of our aspiring young athletes and their parents, and was covered in the local news.