Haifa's Kiryat Sprinzak and Hadar neighborhoods, adjacent to the Leo Baeck campus, are plagued by chronic unemployment and threatened by crime, drugs and poverty.  They are also home to Haifa's largest concentration of new immigrants, the majority from Ethiopia and the former Soviet Union, who live alongside low-income Arab and Jewish families. Nearly 40% of the neighborhoods' residents are consistently unemployed, living on government benefits. More than 50% of those who are employed earn minimum wage or less, too often limited to menial jobs due to their poor Hebrew language skills.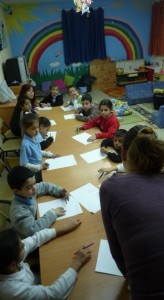 The children in these families desperately need educational support, social/emotional intervention and positive role models. Leo Baeck first responded to this need in 1990 by establishing its first center for children-at-risk.  Children whose parents are unable to provide a warm and nurturing home environment due to unemployment, drug abuse, domestic violence, lack of stable family life and acute economic hardships are recommended to the Centers by the Department of Welfare. Today there are two care centers that provide a "home away from home" for 45 children (30 Arab and 15 Jewish) between 1:00 and 6:30 pm five days a week.
Each center is staffed by social workers, counselors, a loving house mother/cook, local and foreign volunteers including Leo Baeck high school students, soldiers, volunteers from local businesses, and university students from Haifa University and the Technion. Enrichment and recreational activities are designed to stimulate development, build self-esteem, motivate and raise awareness that education is the key to their success. Our staff social workers are trained to identify a wide range of learning disabilities, emotional and behavioral disorders, and to provide special support and counseling to parents as well.
Upon arrival at a Center after school each day, the children receive a hot lunch followed by homework support before engaging in the Center's activities. At the end of the day the children are fed a light dinner.  In July the Centers offer day camps from 8:00 – 1:30 pm. Many summer camp activities take place at Leo Baeck's Main Campus.
When the children complete elementary school and are no longer eligible for Ben Yehuda and Sprinzak Children-At-Risk Center programming, we encourage them to become involved in youth activities at either the Ruth Center or the Clore Center.